Inbound Marketing 101 – Feed Your Sales Funnel
A Four Part Series Featuring Jenna Engel
As you remember in Part 1, we told you a little bit about Inbound vs. Outbound marketing, and you learned (if you didn't already realize it) that your customers… are online. Now, in Part 2, we'd like to tell you a little about the Inbound Marketing method, as we continue to encourage you to put down the megaphone and pull audiences in – into your space – where you are the expert and where you can engage in conversations with potential customers and talk to them instead of at them.
Once again, here's Featured Industry Expert Jenna Engel, from Trending Up Sales & Marketing:
How Does Inbound Work?
Inbound marketing guides ideal customers through their decision-making journey until they're ready to make a purchase.
Using a strategic marketing plan, inbound marketing sets your digital presence up to meet today's potential buyers where they are looking for solutions. The method is simple:
Attract visitors to your site
Convert the ideal visitors to leads
Nurture these leads until they close as customers
Delighting customers converts them to promoters
Measuring the results allows you to optimize the process
Throughout the inbound marketing process, measuring and analyzing the results ensures that you're using proven methods that help you meet your business goals. Marketers who check their metrics 3x+ times a week are over 20% more likely to achieve positive ROI. (Hubspot, State of Inbound, 2016)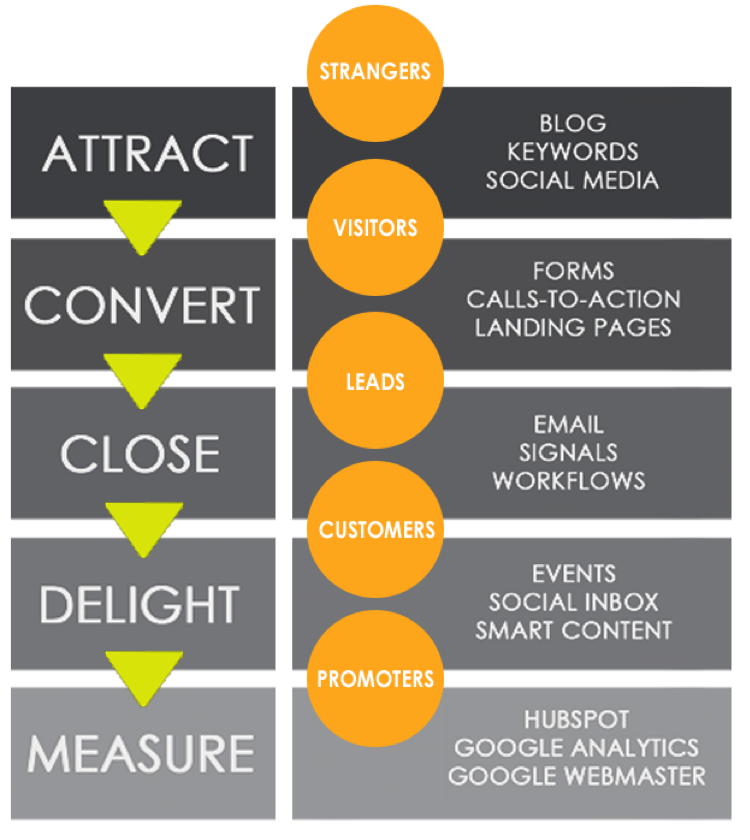 Attract potential buyers, even passive researchers simply looking to educate themselves, using inbound methods.
Now that you know the Inbound Marketing Method (and just to be clear, that last bullet point doesn't belong anywhere near the dating process), join us next time and learn how to start. Or, just contact us today to find out how we can start putting Inbound Marketing to work for you!